An integral part of any Hotel website is its capability to
generate maximum online bookings
from its own website, As a decision maker or the owner it is crucial to select the right booking engine for your hotel website when it comes to return of investments, usability, multi platform availability and functionality.
At present there are many companies in the market which allow you to accept bookings online either through your website or through a third party booking site.
All of these systems offer Quick and efficient ways to manage your internet bookings, administration and management of room availability, prices, send automated confirmation letter and also link to a payment gateway.
It is those small add-on features or so called toppings on the pizza :) which keeps them apart.
1) Misspelled or multiple name search: This feature is important for a hotel group which has hotels across the globe or in multiple location of a country. In the below example you can see a search done on location 'Bangalore' or 'Bengaluru' as the guest might search on any of these name.
2) Choose property by map: Ability to choose hotel from and interactive map, This feature is very useful for hotels who has multiple units in the same location.
3) Book Restaurant Table and Room reservations: Possibility to make table reservation and room reservation with the same booking engine.
4) Price Slider / Price Range selector: Allows the guests to easily set their budget and view the available rate and room for the selected hotel.
5) Multi currency and Language : Possibilities of Displaying the total room rate in multiple currencies and the description / labels on multiple languages.
6) Search filter: Advance refined search filter for choosing property features like room type, Rates, Promotions and packages etc.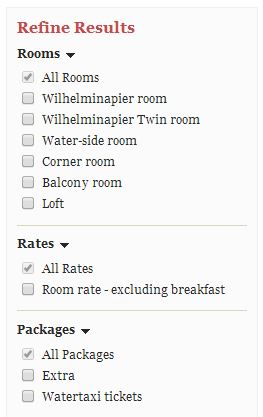 7) Display Slash through rate: Slash through rates displayed on website has more CTR ( Click through rate) when compared to other normal rate. Booking engine should be able to support this funcationality. Eg: original rate was 4000.00 and now 2500.00
8) Embed Trip advisor or guest reviews: Possibility to embed the guest review or trip advisor comments and ranking on the booking page.
9) Sort by - Price, Best deal, Ascending: Possibility to sort displayed price by rate, best deal, discount, etc.
10) Photo Gallery with High Definition pictures: Pictures speak more than words! and bring more user engagement to the booking page. There should be possibility to upload high definition pictures with Resolutions 1920x1080.
---
11) Lesser number of steps: The lesser the number of steps involved in the booking process more the chance to convert the booking attempts into actual reservation. Booking engine should have a option to complete the booking attempt in the same window instead of navigating the user to different page after each step.
Also there should be possibility to re-order the booking steps for example the Add-on offers or purchase tab should only appear to the guest once they have booked the room successfully.
12) Responsive design: The booking screen should be have a responsive design which adapts the layout according to the the type of device the guest had used to view the website. Eg: If a guest visit from a mobile or tablet the buttons and dates selection on the booking screen should be easily clickable with a finger. Check your hotels website responsiveness here : Mobile Friendly Test
13) Booked Price summary: Should display the break up of the selected price, If there are taxes and service charge then then there should be an option to show this breakup to the guest.
14) Possibility of login with multiple id: Guests should be able to login to the hotel website by different options like Loyalty program number, Google account, Facebook and corporate booker ID.
The customers who had logged in to the hotel website it should show the summary of their Future Stay, Current Stay, Cancelled bookings and also if interfaced with the hotel property management system it should be also capable of showing those Bookings also which was made directly by the hotel staff. Also Option to Opt-in / Opt-out of promotion and loyalty program.
15) Amendment and cancellations: Possibility to amend the booked reservation with Add on packages / upgrades. Modify the arrival and departure date. Cancel an existing reservation.
16) Time specific pop-up: Possibility of showing pop-ups as per hotel, Guest type ( Repeat, Member etc.) , special promotion codes.
17) Promotion Code: Should have an option to display special rates upon use of different promotion code.